AUTOMOTIVE ENGINEERING EXPO Newsroom
SICK AG wins AEE Innovation Award 2019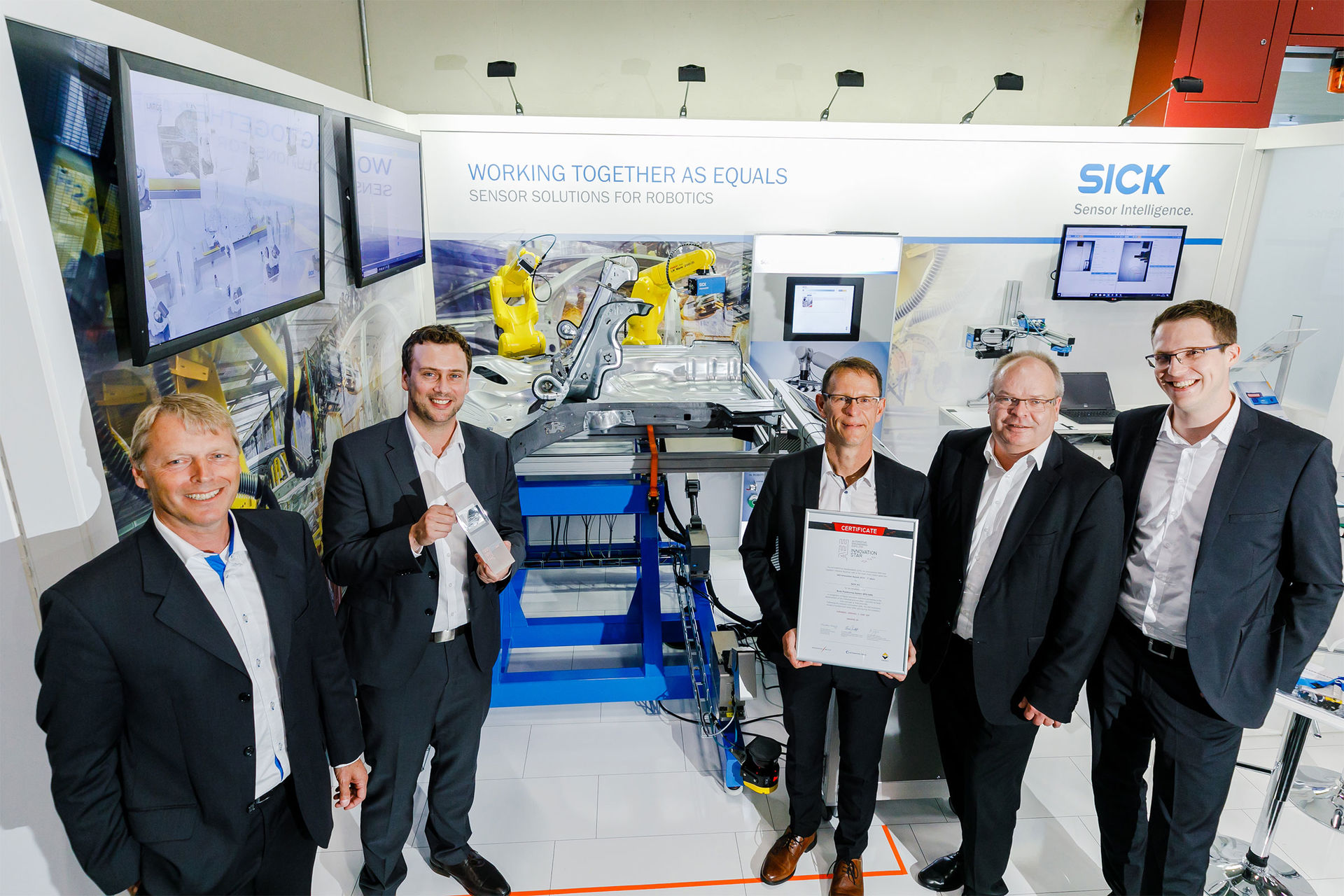 For the second time, the AEE - AUTOMOTIVE ENGINEERING EXPO – has presented the AEE Innovation Award. At the trade fair for the car body process chain – from concept to final assembly –, held on 4 and 5 June 2019, nine innovations by exhibitors were nominated to compete for the award. The OEM and Supplier Advisory Boards, along with trade visitors and congress delegates, cast their votes and chose SICK AG, Fronius Deutschland GmbH and Sika Technology AG to be the 2019 winners. The prizes were presented by Franziska Moennig, Executive Director Presidium Automotive Circle, and Prof. Christoph Wagener, Head of Research and Product Development at Kirchhoff Automotive and speaker of the AEE suppliers advisory board.
SICK AG's body positioning system a convincing winner
With its BPS-5400 body positioning system, SICK AG has developed a system that uses sensor-based robot guidance to achieve maximum flexibility and precision and higher productivity at a lower investment cost. The parallel integration of several platforms in the main production line is paramount. SICK AG was presented with the AEE Innovation Award 2019 on the afternoon of the second day of the fair. Second place was shared by Fronius Deutschland GmbH, with its WeldCube data documentation solution for recording welding data for documentation and analysis, and Sika Technology AG for SikaPower SmartFlow, a bonding solution specifically for joining car body sections.
AEE presents cutting-edge car body concepts
All the exhibitors at AEE who responded to the organisers' Call for Innovations with an achievable innovation could apply to become "AEE Innovation Stars". The products and services that were submitted represented progress in every area of car body development, design, production, assembly and surface treatment. From these, the the OEM and Suppliers' Board initially selected nine pioneering developments that were displayed at the fair as "AEE Innovation Stars 2019" and were the subject of presentations during the guided tours.